How long does a mattress last?
Life is busy, and we have a million things to keep track of – so replacing your mattress is probably the last thing on your mind. Research shows four in ten Australians (1) and one in four New Zealanders (2) are currently sleep deprived – but often when we suffer from tiredness, fatigue and sleep deprivation, it doesn't cross our minds that it could in fact be our old mattress that's causing the problem. Replacing your old mattress can bring multiple health benefits as it allows you to sleep well – leading to a better quality of life.
Most mattresses have a lifespan of around 7 to 10 years. As of 2016, people are now changing their mattress every 8.9 years, as opposed to every 10.3 years (statistics from 2007). Reasons for replacing a mattress include pain and poor sleep quality from the old mattress, or simply a desire to upgrade. Australians are also moving house more regularly than previous generations (1), which may contribute to replacing mattresses more regularly.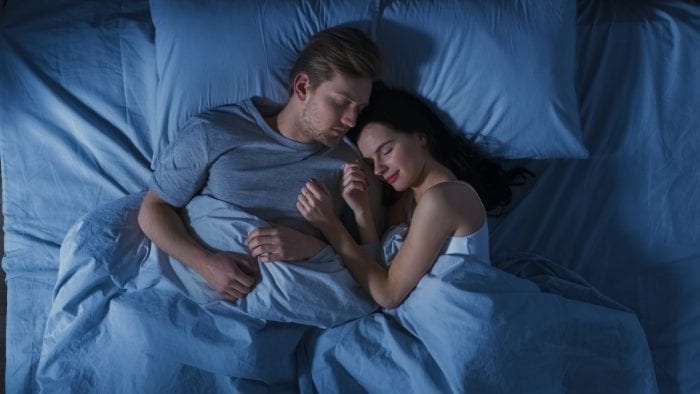 How do you know when its time to replace your mattress?
Muscle stiffness, aches and general fatigue: does your sleep suffer due to pain? Perhaps you experience stiffness in your back, neck, lower back or elsewhere? It can be easy to forget that we spend (ideally) 8 hours every night lying on our mattresses – and when they start to deteriorate, our sleep quality, comfort and physical wellbeing suffers.
Signs of wear and tear: sagging, tears in the fabric and exposed springs.
Noisy springs: mattresses that squeak are no fun, and should be replaced.
Your asthma is flaring up: old mattresses gather dust mites; asthma or allergies can often become worse when an individual is sleeping on an old mattress.
Partner disturbance: an old, worn-and-torn mattress might not contain the latest support technology that minimises motion transfer, and you might find yourself being woken up by your partner. For undisturbed sleep for both you and your partner, we recommend upgrading your mattress.
Have you had your mattress for over 7 years?
With so much on the market, it's not always easy to know what mattress to buy. A.H. Beard mattresses have long-time associations with comfort and quality, and are lovingly-crafted to suit all body types and budgets. Australian-made and owned and passed down through 120 years of family heritage, A.H. Beard is a company dedicated to providing the best quality sleep possible.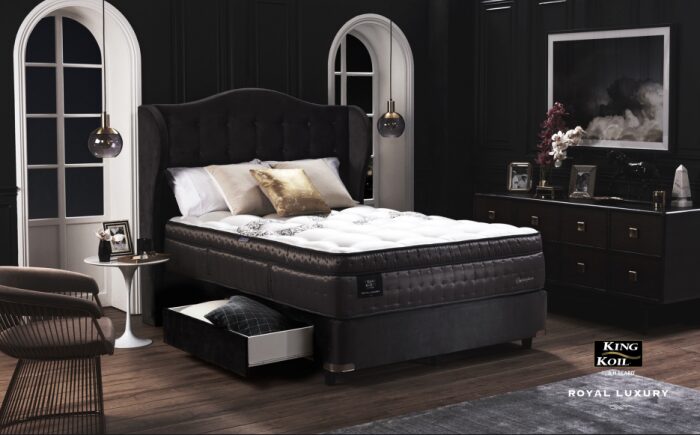 The only mattress recommended by the International Chiropractors Association, the King Koil by A.H. Beard range provides unsurpassed support and minimises partner disturbance – making it a dreamy choice for both couples and singles.
King Koil mattresses feature innovative Reflex support technology that responds to your body's unique size and shape. It features two types of coils – primary coils and active coils. Primary coils provide overall suport, while the active coils provide additional support where your body needs it most. This unique technology allows the mattress to adjust to your personal size and shape – gently cradling your back, hips and shoulders while providing targeted support where you need it.
If partner disturbance is affecting your sleep, a King Koil mattress featuring Reflex technology can help. Each spring inside the mattress is encased within its own fabric pocket so it responds independently to movement and minimises motion transfer between partners.
A.H. Beard mattresses are the only ones approved by the National Asthma Council to carry the Sensitive Choice blue butterfly symbol. They help create a healthier sleep environment by providing long-term protection against dust mites and their allergens, mould and bacteria, so you can breathe and sleep easy.
Domino by A.H. Beard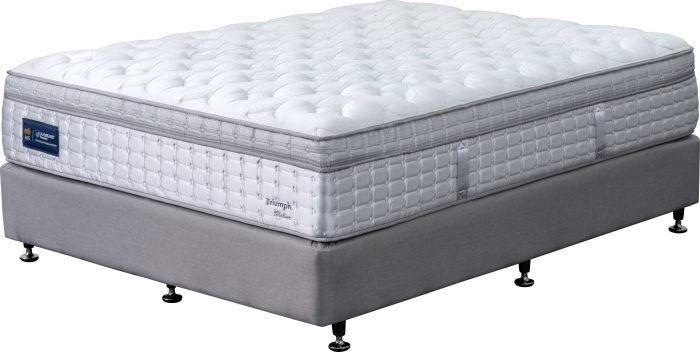 Looking for a mattress to support your body for optimum performance? The Domino by A.H. Beard range has been specifically designed with athletes in mind, and is the official partner mattress of the Australian Institute of Sport.
Domino mattresses deliver total-body support for a deeper, more restful sleep. Individually wrapped pocket springs contour to your body's shape, providing full-body support and pressure relief. These pocket springs also minimise partner disturbance, so both yourself and your partner can wake up feeling well-rested in the morning.
The Australian Institute of Sport is trusting A.H. Beard to provide its athletes with their best night's sleep. Their Altitude House facility, an overnight specialist training house, is fitted with Domino mattresses. But it's not just athletes that can benefit from a Domino mattress – if you want to wake up feeling your best and achieve optimum performance in 2020, you can benefit from one, too.
Don't forget about your bed base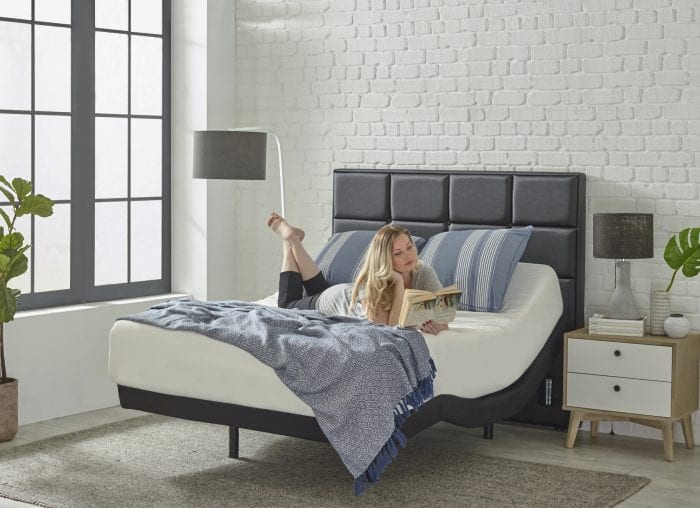 Did you know your choice of bed base or frame could be impacting the sleep you're getting, more than you realise? Your mattress and base work together to provide a comfortable, supported night's sleep, so its important to pair your new mattress with a sturdy, breathable base to take your sleep quality to the next level.
The benefits of an adjustable bed base: no two bodies are the same, and thanks to technology we can now customise our sleeping enviroment to embrace this. A.H. Beard adjustable beds are exactly that: adjustable! They feature parts that can be raised or lowered independently of each other for optimum ergonomic positioning, or for just getting comfy when you're watching Netflix!
The benefits of an adjustable bed base can include:
Reducing back pain:  elevating the legs may help to relieve pressure on the lower back and support the spine's natural curve, which can help to minimise aches in the morning.
Help combat asthma and snoring: elevating the head of the bed helps open up the airways, which can reduce snoring and enhance circulation.
Improve digestion and lessen acid reflux: Elevating your upper body by 6-8 inches alone can help improve acid reflux symptoms, as well as help your body to digest food more efficiently.
For those who prefer a more traditional base, A.H Beard offers a range of ensemble and storage bed bases, with large capacity drawers so you can store your linen efficiently and with ease. Discover A.H. Beard's range of mattresses, bed bases and sleep solutions today and enjoy your best sleep yet in 2021 and beyond.
What to do with your old mattress?
Once you've got your new mattress, what do you do with the old one? Did you know it can be recycled? Visit recyclemymattress.com. It is a national social enterprise that works to divert waste mattresses from landfill and recover the components to recycle. If you're looking to recycle your mattress you can book a collection online!