By following these care guidelines, you can expect your mattress to provide comfort and support for many years.
Protect your mattress
Always use a good quality mattress protector to ensure a fresh and hygienic night's sleep and to protect your mattress from spills and stains.
Failing to keep your mattress clean and free from stains may void your mattress guarantee. This is because it poses a health and safety risk for our staff if it's returned for inspection or repairs. To avoid this ensure you do spot cleaning as required. In the unlikely event that your mattress needs to be returned to A.H. Beard for repairs, we may require it to be sanitised by an accredited service at your expense to ensure the health and safety of our team.
Ensure that you allow your mattress to breathe regularly by turning back the bed linen for a few hours every few weeks. Allowing the air to circulate around and through the mattress ensures that body moisture dissipates.
Use your entire sleep surface
Most of us sleep on the same area of our mattress each night, and if you're sharing your bed with a partner, this means the middle can be relatively untouched. You may notice a ridge or hump in the middle, particularly if you have a larger size bed.
As the comfort materials settle and dip slightly in the area where you sleep, this can leave a raised area in the centre of the mattress. This will be more noticeable on larger mattresses. Indentations of up to 40mm on a pillowtop mattress, and 25mm on a non-pillow top mattress, are considered a normal characteristic of mattress performance.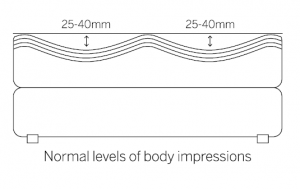 This uneven wear on the mattress surface is deemed "fair wear and tear" and is not considered to be a fault under the conditions of the A.H. Beard mattress guarantee. To minimise the ridge in the middle of the mattress ensure that you use the entire sleep surface. This will help the mattress to settle evenly.
Rotate your mattress
To help minimise body impressions, we recommend that you rotate your new mattress end-to-end every two weeks during the first four months, and monthly thereafter. This will help to even out the settling across the surface of the mattress. Always get someone to help you rotate the mattress to prevent personal injury and damage to the mattress.. If your mattress has handles, these can be used to rotate it, but are not designed to carry the full weight of the mattress. Do not use the handles to lift and carry the mattress, as this may cause damage and will void the guarantee.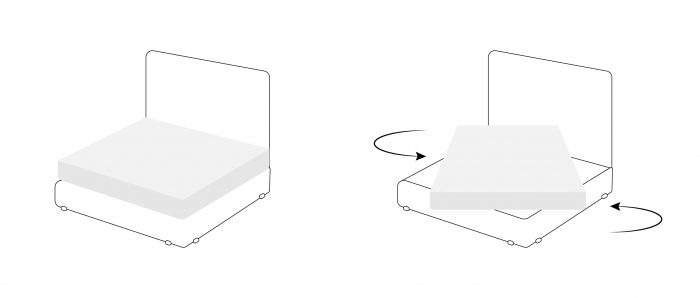 Most A.H. Beard mattresses are single-sided and consist of a durable support system on the bottom, such as springs, that is topped with pressure-relieving comfort layers. We recommend you rotate your mattress from head to toe regularly to ensure even settling of the comfort components, but turning your mattress upside down is not required.
Use a suitable, supportive base
Use a supportive base with your new mattress. A.H. Beard's timber platform bases provide the best possible support for your new mattress, to prolong it's life and ensure the most comfortable sleep experience. We recommend that you do not use an old base with a new mattress, as both parts of your sleep set work together to provide you with optimum comfort and support.
A.H. Beard's adjustable bases also provide a strong supportive foundation for your new mattress, with the added benefit of articulation. An adjustable base allows you to find your perfect position for sleeping or relaxing. It may help ease lower back pain, improve circulation and may assist with other conditions such as snoring, reflux and swelling. For more information on our range of adjustable bases, click here.
Be sure that the legs are screwed in tightly and checked each year or as required.
Cleaning your mattress
Gently vacuum your mattress regularly with a soft brush attachment. Do not wet your mattress as it may damage the comfort layers and spring unit. This may void your guarantee. Spills should be dried immediately. Failure to keep your mattress clean and free from stains may void your guarantee, as it poses a health and safety risk to our team should your mattress need to be returned for inspection or repairs. We recommend you use a mattress protector.
Storing your mattress when not in use
When not in use cover your mattress to keep it free from dust and store in a cool, dry place out of direct sunlight. King Koil and other spring mattresses can be stored upright but should not have anything leaning against it. Hand-tufted and latex mattresses should be stored flat with nothing placed on top.