A.H. Beard is excited to announce the launch of our first truly sustainable and fully recyclable sleep range, A.H. Beard Origins. The Origins collection has long been a goal for the company and sets a new standard for sustainable, premium sleep solutions in Australia.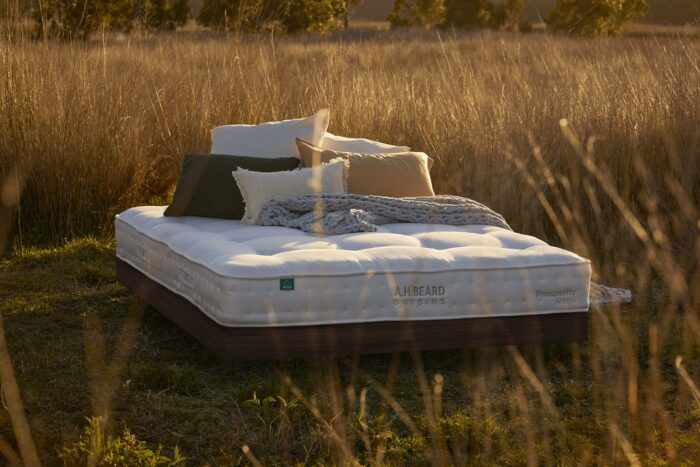 The mattress we choose not only has a significant impact on our overall health and wellbeing, it also has environmental implications on the planet. With more than 1 million mattresses ending up in landfill annually in Australia, the A.H. Beard Origins collection is a high-quality, healthy, and sustainable alternative to the non-recyclable, one-size-fits-all and imported mattresses that currently make up 32% of the mattress category. Investing in the right mattress can now be an environmentally conscious, ethical choice that is kinder to the planet, as well as help you experience the most blissful, rejuvenating night's sleep you've ever had.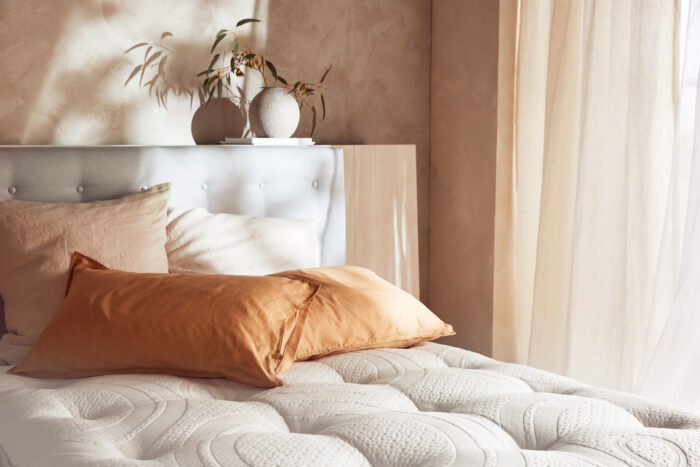 Hand-made by our team of highly skilled craftspeople, every fabric and fibre in an Origins mattress has been carefully selected for its sustainable properties, end-of-life recyclability, and luxurious comfort qualities. The collection features the finest locally sourced wool, organic cotton and Tencel® – a super soft fibre made from the pulp of sustainably grown eucalypts – and the world's first 100% recyclable pocket spring support system, EvoCoil.
Origins' mattresses are made free from GMOs, synthetic foams, and glues, meaning the components can be disassembled for recycling at the end of their life so they can go on to live other useful lives. Origins has also been rated as one of the healthiest, most non-toxic products in the world by Global Green Tag, the world's most rigorous sustainability certification body, and is the first mattress globally to be achieve a Platinum HealthRATE and Platinum Asthma & Allergy rating.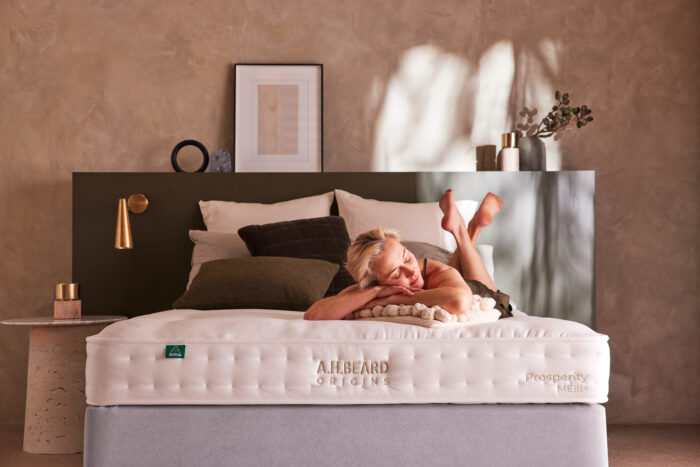 At A.H. Beard, we care deeply about creating a sustainable business that gives back to nature and have pledged to plant 20,000 trees by October 2022 in partnership with One Tree Planted, a global non-profit organisation focused on combating the damaging effects of climate change by rebuilding forests and restoring biodiversity. We've also partnered with like-minded local growers and businesses who are committed to sustainable practice such as Cloven Hills in Victoria, where the sheep and their wool is farmed to the highest environmental and ethical standards.
We're proud to be a family-owned, Australian business and want to celebrate remarkable local produce and craftsmanship, and help realise a better, more sustainable future for our families, communities, and the planet. A.H. Beard CEO Tony Pearson says:
"We are proud to lead the way in developing Australia's first truly circular sustainable sleep range. A.H. Beard has always been a driving force behind mattress recycling in Australia and we couldn't rest until we had created Australia's first fully recyclable mattresses. Our hope is to inspire others to join us in creating mattresses that are as good for your sleep as they are for people and the planet.

We want to be a creator of community wellbeing and are committed to becoming the most sustainable and ethical business across all our operations. Our team is on a mission to educate the world on the benefits of premium sustainable sleep, and we take great pride and responsibility in growing and evolving our business in a healthy way to have a positive impact on our world."