In Bed With: Elle Halliwell
In collaboration with Rachel Beard of @rachelbeardsleeps
Our In Bed With series, featuring sleep enthusiast Rachel Beard, explores the process of finding the right mattress by addressing sleep-disruptors, working with lifestyle choices and always keeping in mind the subjective nature of comfort.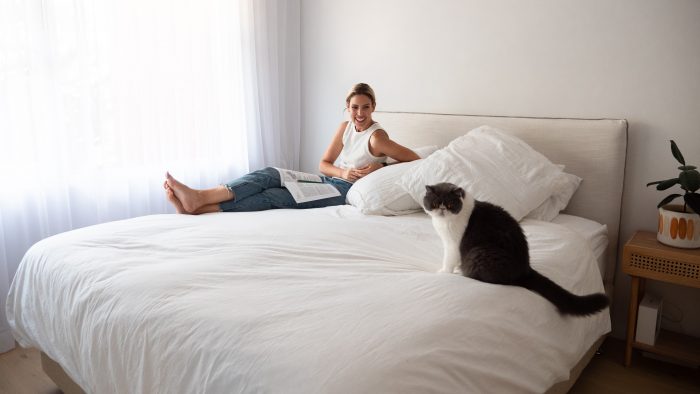 Meet Elle Halliwell, author, journalist, naturopath, and founder of Auricle Ear Seeds. Elle is on a mission to rediscover the quality sleep of her prior self, after overcoming cancer and becoming a mother.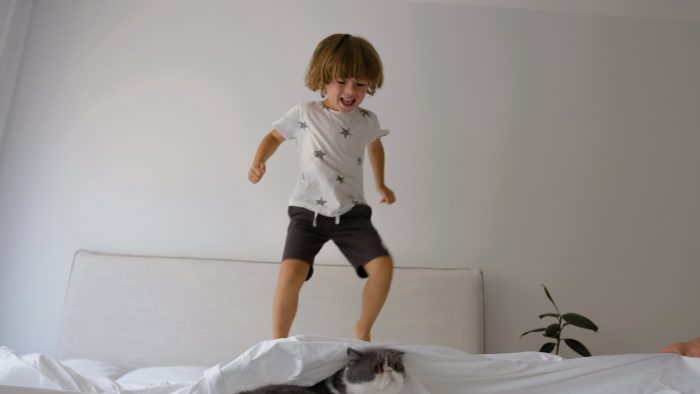 Before having her son, Tor, Elle was easily able to get a full night's sleep. Now that Tor is four years old and sleeping through the night, it's time to revive Elle's sleep, and that begins with finding a mattress that remedies those pesky sleep thieves.
Sitting down with Rachel Beard, A.H. Beard's Education and Development Coordinator and ardent sleep enthusiast, Elle talks about the factors impacting her sleep in recent years.
Elle's sleep thieves:
Waking up with hip and back pain since becoming a mum
Not being able to get into a deep sleep in anticipation of Tor waking up
Partner disturbance; her tossing and turning waking her husband Nick through the night, and Nick waking her up when he leaves for the gym early in the morning
Elle is committed to living a healthy lifestyle and looks for products that are natural and eco-friendly, with minimal artificial additives. This is an important consideration in Elle's search for a new mattress.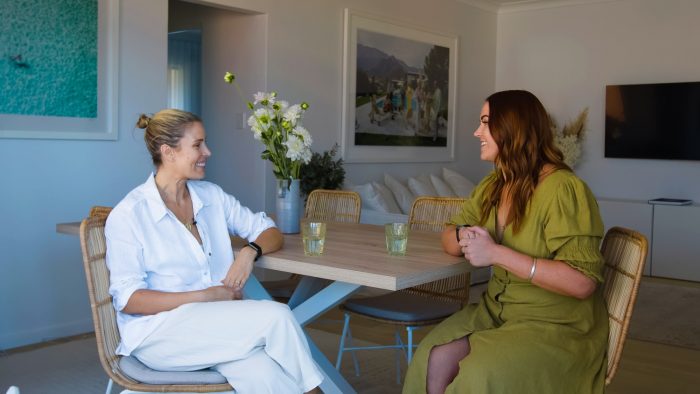 After discussing the factors impacting Elle's sleep, Rachel recommends:
1. Get the biggest size bed that you can afford and that will fit comfortably in your bedroom.
This will ensure that you and your sleep partner have room to move during the night without disturbing each other.
Did you know that two adults sleeping in a queen size bed have less room than a child sleeping on a single bed?
2. Look for a mattress that contains natural Talalay latex
Not only is Talalay latex super comfy and pressure-relieving, it is derived from the rubber tree, and is naturally breathable, antimicrobial and dust-mite resistant!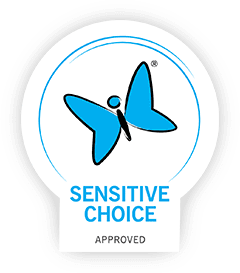 3. Keep an eye out for the Sensitive Choice blue butterfly
A.H. Beard mattresses carrying the Sensitive Choice blue butterfly logo are approved by the National Asthma Council of Australia. They provide long-term protection against dust mites and their allergens, mould, and bacteria, so you can breathe and sleep easy.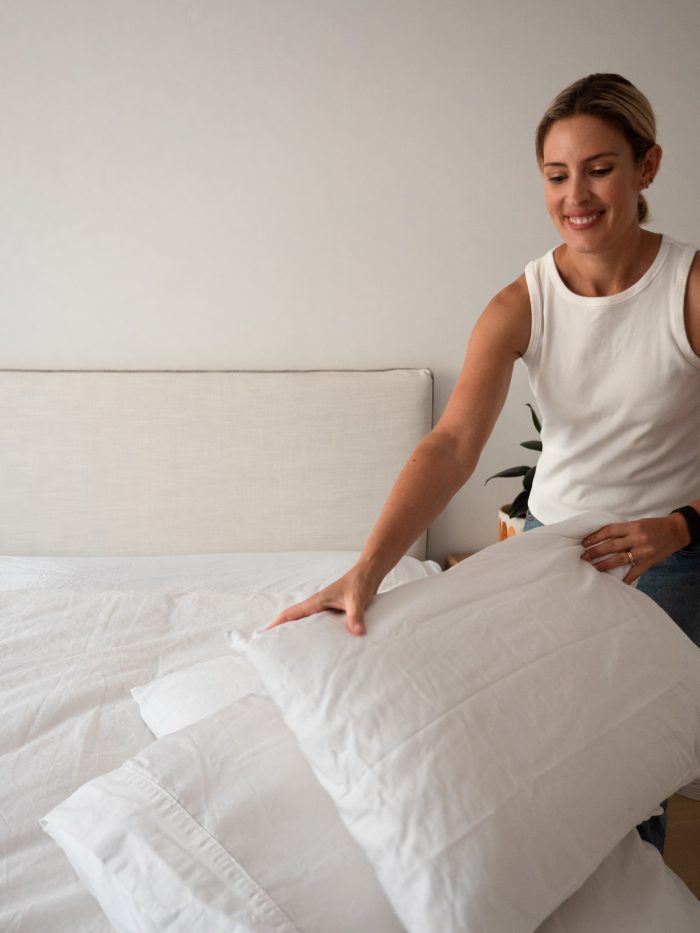 4. Try before you buy!
Comfort is subjective, so it's important to try a mattress before you buy to make sure it's right for you. Lay in your preferred sleeping position and stay there for a while. Be sure to look for a mattress that's comfortable as well as supportive. Comfort helps you fall asleep, while support will help you stay asleep through the night.
A.H. Beard has a mattress for every type of sleeper. You can check out our ranges here.
Elle finds the right mattress!
Elle visited her nearest bedding stores (you can find your closest A.H. Beard retailer by entering your suburb here) and tried a range of matttresses. She settled on a Nature's Rest mattress, sold exclusively at Domayne.
Why Nature's Rest?
Elle says that ultimately she chose Nature's Rest because it contains natural components including wool and Talalay. It gently cradles her curves, while providing the support she needs.
Other amazing points about the range:
Tencel is a natural fibre, derived from eucalyptus trees. Tencel® fabric naturally absorbs and wicks away moisture for a balanced sleeping environment, whilst minimising the growth of bacteria, while wool naturally regulates temperature to keep you sleeping comfortably.
It's made with naturally hypoallergenic Talalay latex, boasting resistance to dust mites and other harmful bacteria
Talalay conforms to your body shape, relieving pressure that can cause tossing and turning, so you can enjoy a deeper, more restful sleep.
Talalay also supports your natural movements during sleep while reducing motion transfer, so you are less likely to be disturbed by the movements of your sleep partner.
Each mattress is made to order based on your comfort preference. Choose your mattress feel and then combine with your choice of one of three topper styles. For further flexibility, the toppers are also reversible!
This range features the Sensitive Choice blue butterfly meaning it's an ideal choice for those with asthma and allergies
After three weeks of sleeping on her new Nature's Rest mattress, Elle felt re-energised! The larger king size meant that there was no partner disturbance when Elle moved around in the night or Nick got up early. It also meant there was space for Elle, Nick, and Tor for morning cuddles!
Elle's sleep tracker indicated that her sleep had transformed from 60/100 to 85/100 on the first night. She feels this in the deeper and more restorative sleep she is experiencing, due in large part to the pressure-relieving properties of natural Talalay latex.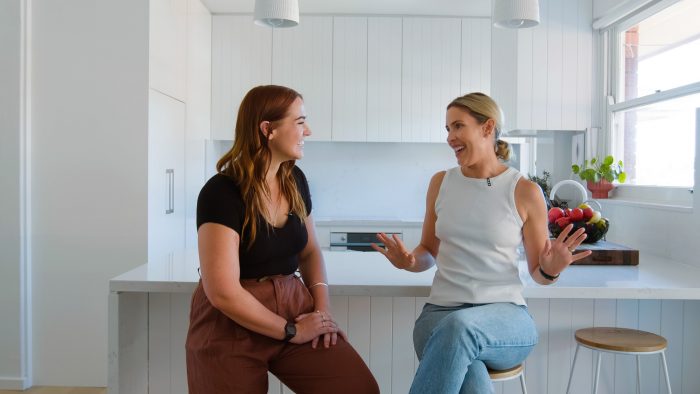 "I didn't realise how much it would actually help, and I feel almost like my old self again, which is really nice… the time you go to bed, the time you wake up, the quality sleep and what you sleep on, they all play a role."
– Elle Halliwell
Want to find out more about the bed Elle chose? Check out the Nature's Rest Verde mattress here!
—
Find the right mattress for you in 60 seconds! Answer a few questions and get personalised mattress recommendations tailored for you by clicking here!