Identifying a unique opportunity to help shine a spotlight on local designers, we have formulated the Designer Series. As a proudly Australian owned and made company, we want to show support and highlight some of Australia's most creative minds.
We welcome another creative perspective to the Designer Series, Pip Goldsmith. She shares and speaks on valuable insights about interior design and homewares.
Drawing inspiration from the coastal lifestyle, Pip delves into her personal transformation which has resulted in her landing into the role as Creative Director of The Boathouse. Her upbringing around textiles and design was crucial in shaping her passion for interior design, as she was captivated by the fabrics, colours and textures involved in this creative space. The Boathouse Group is continuously expanding with venues in Palm Beach, Balmoral, Whale Beach, Shelly Beach, Patonga and their most recent addition, Rose Bay. The Boathouse also offers a styling service through The Boathouse Home store.
The Boathouse Group has recently opened accommodation at Barrenjoey House in Palm Beach and The Boathouse Patonga, giving fans of the Boathouse venues a place to escape and admire their eye-catching designs. Pip has a strong eye for interiors with an ability to bring the coastal lifestyle into homes, creating beautiful interiors.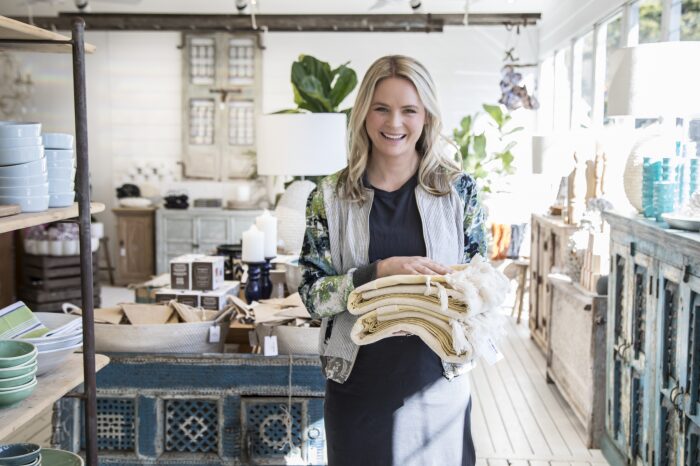 What do you design?
As Creative Director of The Boathouse, I help with the design of our hospitality venues across Sydney. This might range from being involved with a renovation at a current venue or a whole new venue design.
What inspired you to become a designer?
My Aunty and Uncle had an interiors store when I was growing up. I absolutely loved spending countless hours amongst all of the different fabrics. Being surrounded by so many different colours and textures was really inspiring for my personal growth. Growing up around this completely captured my attention and I felt drawn to design by the time I finished high school. After school, I studied Interior Design at The Whitehouse Institute of Design. I then opened a furniture upholstery store in Crows Nest called Armchair. This was prior to the opening of The Boathouse.
What inspired your bedroom design?
I absolutely love colour, however my bedroom is the one space where I choose to tone the colour down. I really enjoy having a calm, simple bedroom. This is completely opposite to the rest of the house, which is full of colour.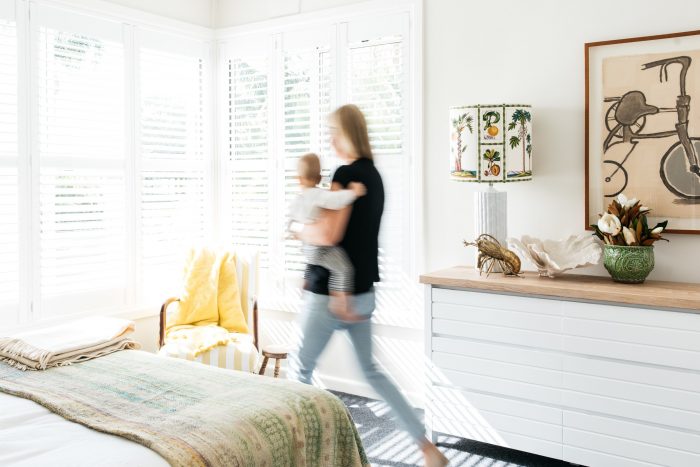 What should no bedroom be without? 
Beautiful linen! You spend so much time in bed so I believe you should make it somewhere that you truly love. It should be a personal space that feels special and comforting in every way.
Do you have a pre-bed ritual? 
I do! I religiously must have a shower, followed by some reading then lathering my hands in hand cream. Without doing these nightly rituals I am restless.
What homewares are essential to making a bedroom feel complete? 
A throw at the end of the bed or as a bedcover always seems to finish a bed nicely, bringing the space together and emphasising the comfort. I also love having books on bedside tables to make the space feel much more homely and comfortable.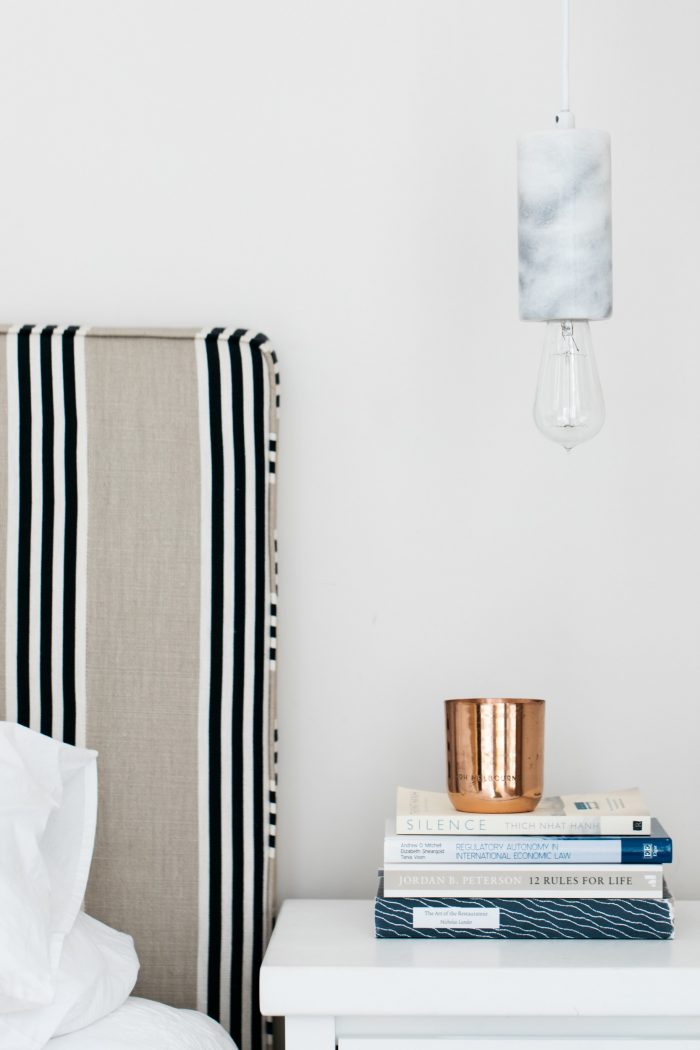 Which design elements help make your bedroom feel like the ultimate place of rest? 
The two key elements I believe to make a bedroom feel completely restful is a combination of white or soft neutral coloured walls, as well as dim lighting.
The Boathouse Group has recently launched accommodation at Barrenjoey House and The Boathouse Patonga. What inspired the addition of boutique accommodation to your chain of venues? 
We are enjoying the challenge of having added accommodation to the Group offering. Both Patonga and Palm Beach are destinations, where guests might drive a long way to visit us. We have always loved the idea of being able to enjoy a long lunch or a special dinner, then simply head upstairs to stay overnight, or stay for a longer getaway.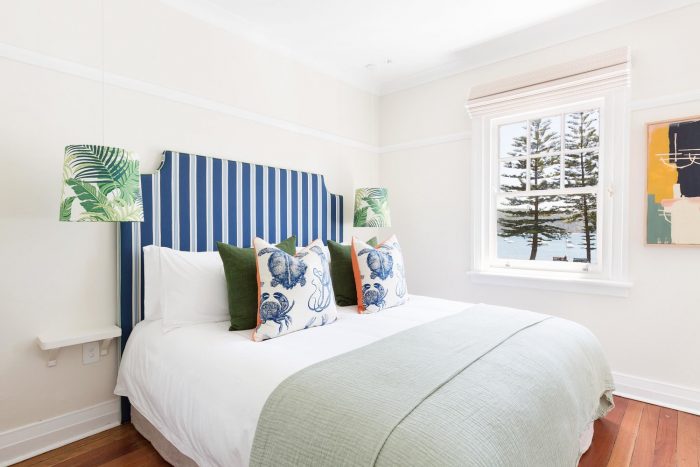 Image from Barrenjoey House
What were some things you had to consider when designing accommodation. Are there any tricks that we can apply to our own homes? 
We considered how the spaces would be used by our guests. We chose interiors that were relaxing and comfortable, and we wanted the bedding and linen to feel luxurious. We chose flooring and finishes that were suitable for the seaside locations of the accommodation and ideal for sandy feet. At Barrenjoey House, we also had to consider how to make the best use of limited space in the guest rooms.
You use a lot of colour and patterns in your designs! What is your advice on choosing colour and matching patterns? 
I believe you should choose colours that you love, and be brave with mixing stripes and patterns. Bold colours and patterns can always be toned down with white linen or a plain bedhead.
What do you envision will be the big trends for interior design in 2021? 
I am not a big follower of trends, I believe you should choose things that you love, and that make you feel good.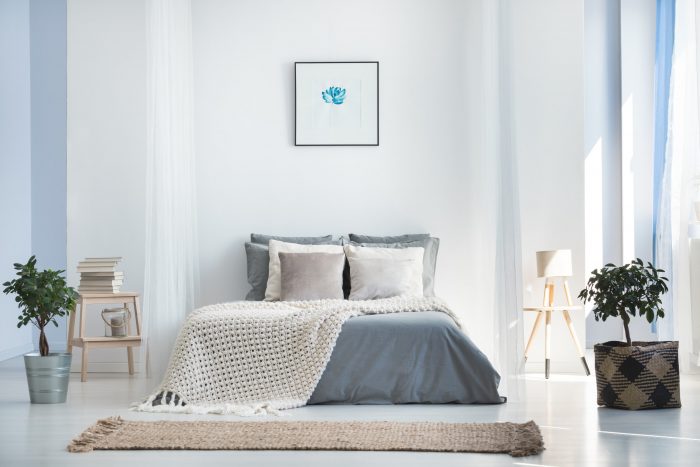 Who should we be following for design inspiration?
Follow fashion and interior designers who resonate with your style and who inspire you. One of my favourite fabric designers is Ralph Lauren, and I also like to follow Australian homewares magazines.
What's next for the Boathouse Group? 
We are currently opening a new Boathouse in Rose Bay, where we will offer a waterside kiosk and restaurant. We are looking forward to being a part of the Eastern Suburbs community!