At A.H Beard, we're proud to be an Australian made and owned business and want to celebrate the remarkable creative talent around our beautiful country.

Our Designer Series showcases some of Australia's best local designers and creators by taking a closer look behind the scenes at their work, the creative journey and what motivates and inspires them.
This month we sat down with Sheree Commerford, founder of creative agency CANVS, stylist, and designer who is soon to launch Il Delfino, a beautiful seaside inn on the beachfront of Yamba. Whether it's fashion, interiors or travel, Sheree is revered for her luxurious laidback style which sees a particular emphasis on craftsmanship and recyclability.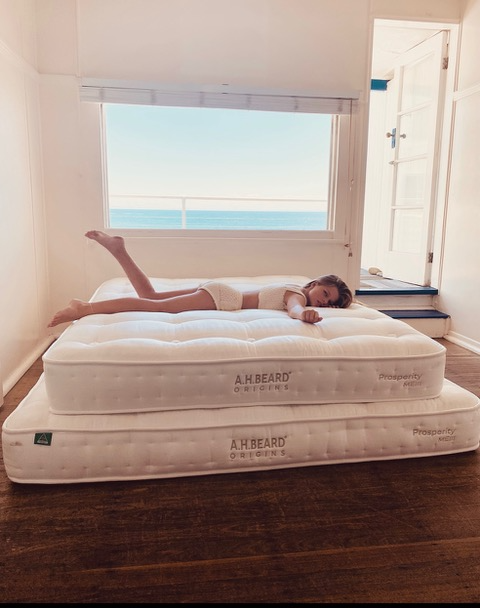 What inspires your design and stylistic choices?
Part of it must be osmosis. It can come from all of what the senses see and experience at any time. A song, a book, a colour, food, fashion, culture, history, a font on a random sign or film intro. I believe we all have subconscious layers that unknowingly shape your creative style.
How I feel plays a big role, as do the travels I have experienced which I am so grateful for. Often those travels have been the gateway for what my style choices become and ultimately a trademark of sorts – usually connected to the history of a place.
I think in a past life I was a set/costume designer on films as I find design an exciting medium for storytelling whether it be fashion or interiors. It is all so intertwined and I tend to want to recreate a feeling or bring to life the romance and nostalgia of an era or a moment in history.  I want people to feel a certain way from anything that I create, whatever medium that is. 
With Il Delfino, I took inspiration from its original design and location – a 1948 mid-century sailors Inn perched over the sea which naturally lent into our travels along the rocky coastlines of Europe.
Your last project, II Delfino, will be opening soon. What can guest expect from a stay at II Delfino?  
Il Delfino is the last remaining building of its era in this location. Through the restoration of its original design we are hoping to recreate an iconic seaside escape. A unique Australian version of the many seaside hotels and guest houses that we have experienced on our travels along the Mediterranean and the Côte d'Azur. They both share that special brand of Summer magic and history within their walls.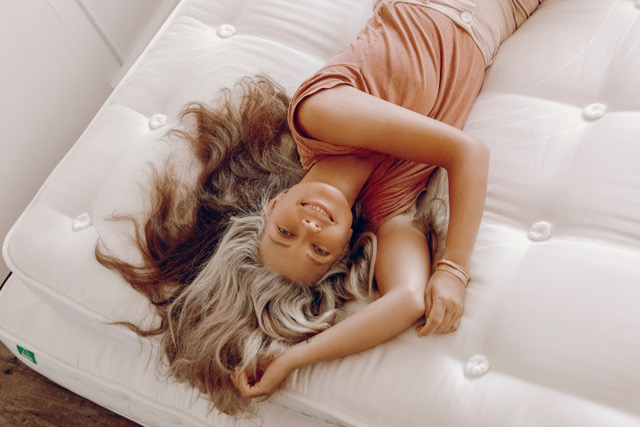 Il Delfino has been a stay for many decades and over time has accrued an indefinable feeling. You feel like a child again transported back to summer holiday memories of simple freedoms framed by the breathtaking backdrop of a forever changing ocean and sky. Nature steals the show here, and I for one, will not be competing with the full moons that lay silver roads out to sea and Il Delfino's namesake, the dolphins who are your nearest neighbour.
II Delfino will feature the A.H. Beard Origins range. Why was having sustainable bedding important to you? 
We are always looking for the sustainable option with this project but often it just isn't possible. A.H. Beard made it very easy to achieve this in the mattress department. Bedding was a big one for us due to the number of beds we were needing and knowing what a huge portion of landfill mattresses contribute to every year. The Australian Bedding Stewardship Council estimates that around 1.8 million mattresses are thrown out each year in Australia and around 40 percent of them – 22,140 tonnes – end up in landfill.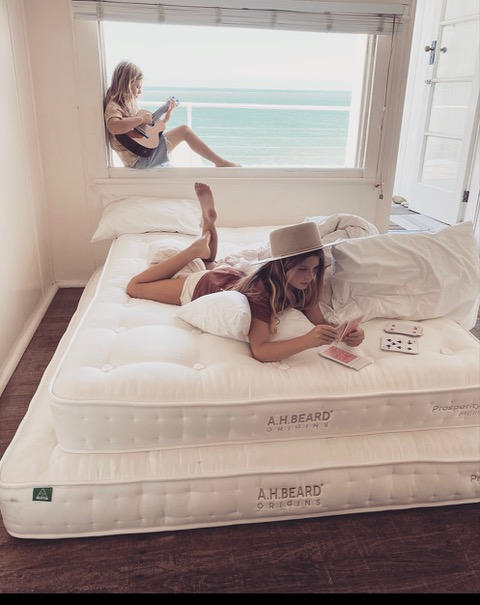 Timing was key as A.H.Beard are the first to make a fully recyclable mattress in Australia. Knowing that every component of the bed has been made to be disassembled for recycling at the end of its life cycle was a such a huge win. Literally every inch of your mattress has been considered for its environmental impact which means they come with the highest global sustainable certifications. Then to have the name A.H Beard attached to them, which is a locally made, family run business who for over a century have been making beds for Australians fit the bill in every way.
When staying at hotels or holiday accommodation, what makes a good bed?
Staying in a new environment, whether that's in a hotel or on holidays can be disruptive to our sleep and we can't take our bed with us. What is good to remember is controlling what you can to help you get a restful sleep.
Most hotel rooms have air conditioning, so setting the temperature between 18 – 22 degrees Celsius is ideal for deep sleep and use the block out curtains to help keep your room cool and dark.
Is there any particular hotel/s that you've drawn inspiration from?
So many. From the more modern ones such as L'Hotel Les Roches, Menorca Experimental and Hotel Le Sud to ones that I've experienced in person. L'Hotel Pelicano, Il San Pietro di Positano to a family run guest house in the heart of Sardinia called Domu Antiga. Il Delfino is more Inn than Hotel so I find I get loads of inspiration from private homes. Even films such as The Durrells in Corfu and The Talented Mr. Ripley have helped set the scene in my mind.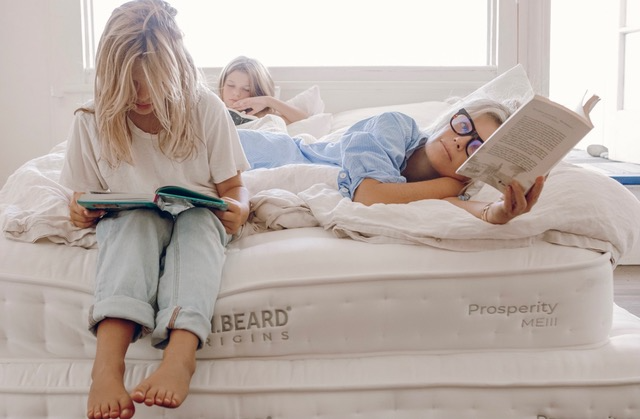 What does a good night's sleep look and feel like for you?
The ultimate sign of a great night sleep for me is waking up not tired. It sounds a little strange but I feel like a big portion of my sleep life I have woken up tired. This might have something to do with young children or Netflix, more than likely the wrong bed but I do know waking up feeling rested is a glorious feeling.
How would you rate yourself as a sleeper?
It is on the lower side, probably a 6 out of 10. I have always been a night person with work and energy. I used to work until two in the morning when the kids were little. Now, I just can't do that but I still tend to go to sleep later than I know what's good for me. I am also a light sleeper. I often wake with the slightest noise and movement but I've noticed I am sleeping through the night more often since using our Origin mattress thanks to the reduced partner disturbance from the comfort layers and independently supporting coils.
What is your pre-bedtime ritual? 
Sometimes a bedtime ritual doesn't have to be one thing, it is simply the routine you follow every night, which tells your brain it is time to start preparing for sleep. Sheree's says her ritual is simple, but the simple-ness of these steps, every night before bed can have the best results. Find what works best for your schedule and do it often.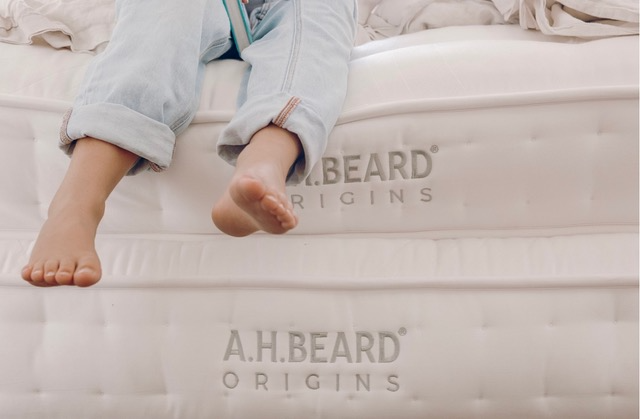 What's your favourite part of your own bedroom? 
Your bedroom should be your own personal oasis that you enjoy going to each and every night. We relocated North recently to work on Il Delfino so our life is mostly in storage. It has been some time since I have had a bedroom that I can make my own but it is my adult dream to create such a space and in that dream lives a walk-in wardrobe with not one piece of precious clothing packed in a box
What should no bedroom be without? 
Windows, light, fresh air and of course an Origin mattress!  Where possible, save your bedroom for sleep and intimacy only so you can create your own 'adult dream' for deeper, more restful sleep.