Identifying a unique opportunity to help shine a spotlight on local designers, we have formulated the Designer Series. As a proudly Australian owned and made company, we want to show support and highlight some of Australia's most creative minds.
An expert in all things mind, body and soul, Mia Mitchell from SaucyMoo shares with us her challenging sleep journey, the importance of sleep, and how she found a way to naturally support her physical and mental health and wellbeing through sleep and bedroom essentials.
Do you consider yourself to be a good sleeper? 
For many years I suffered from chronic anxiety and depression, which only increased after my marriage breakdown. I realised I wasn't taking care of myself as I was channelling all my time and energy into my two boys. As a result, my sleep patterns were heavily affected; I struggled to fall asleep at night, I was constantly waking up during the night and I was experiencing chronic night sweats. I recognised something needed to change and that's when I discovered the importance of sleep habits and routines – essential oils, crystals and Reiki energy healing has changed my life.
What is your favourite part of your bedroom?
Definitely my bed; I could spend hours in it, and I do! I also have a beautiful wreath made of dried flowers hanging on the wall above my bed, made by a good friend and gifted by my partner.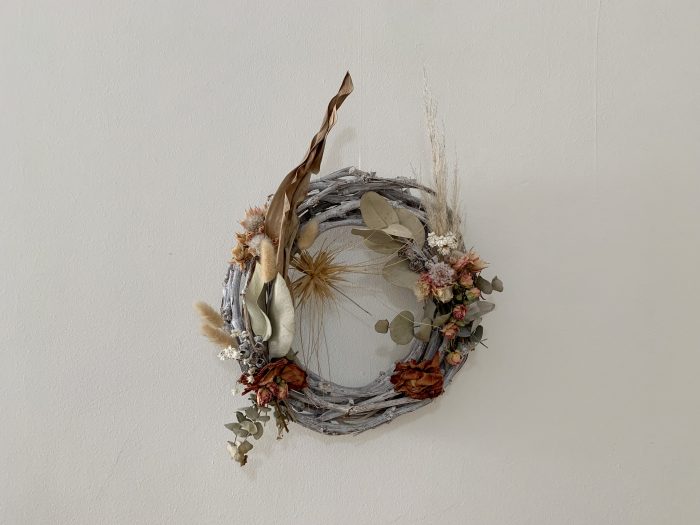 What aspects of your bedroom design emphasise it as a place of rest?
My bedroom feels like a haven from the moment I walk into it, to the moment I wake up each morning (or after a nap). The furniture, the colours, the bed and the throw blankets ooze rest and replenishment.
How many hours of sleep do you think is the right amount for you?
8 hours is great if I can get it, however my body has adjusted to a busy lifestyle and I find that if I get a solid 6 hours, I wake feeling refreshed and recharged.
The amount of sleep you should be getting changes throughout your life. Although Mia requires 6 hours, most adults need 7-9 hours to function at their best.

To find out how many hours sleep you should be getting, check out the Sleep Health Foundation's recommendations here.
Do you have a routine before you get into bed?
Absolutely! I create a sleep environment with fresh sheets and a decluttered tidy space, plants and crystals. I also energy cleanse my bedroom regularly using white sage, Palo Santo or dried herbs – this clears the space of any negative or stagnant energy – it's also important to have windows open when you can, to allow the fresh air in and stagnant energy out.
Before going to sleep each night, I use my SLEEP mist to spritz my pillows and linen, then I turn on my oil diffuser with a blend of essential oils for sleeping and place crystals under my pillow (these change nightly depending on my mood, my cycle, my energy). Next, I apply my SLEEP essential oil roller to the soles of my feet, my wrists, my neck and a little swipe under my nose. Then I wind down by connecting to my heart, taking a few deep breaths, and writing in my journal. Finally, I play binaural beats or rain/storm sounds through my phone and switch off my lamp – I fall asleep within minutes!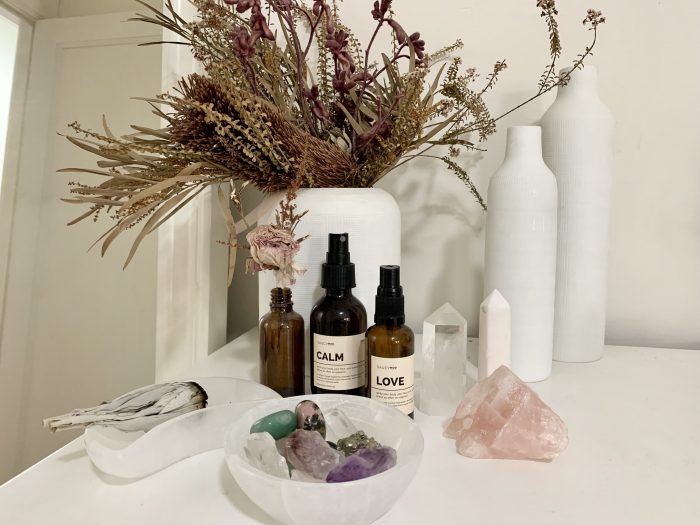 How important is having the right mattress and pillow?
It's so important! Investing in your bed is one of the best investments you can make for your health, from the mattress to the pillows and bed linen. An investment in our bed is an investment in ourselves.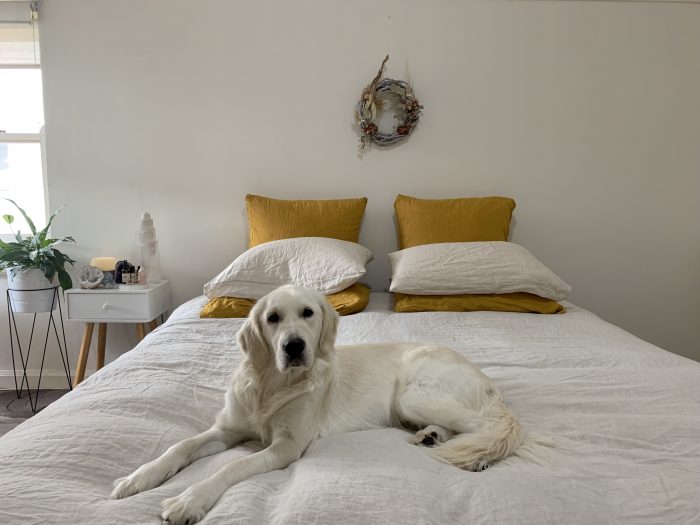 What essential oils and crystals from your range would you recommend for sleep?
My SLEEP mist and essential oil roller definitely! Lavender is a great essential oil for sleep as it is very calming and relaxing. Vetiver is also beautiful for sleep as it is a deeply grounding and relaxing essential oil – it can put you into a deep state of relaxation. Amethyst is my favourite sleeping crystal, however Howlite, Lepidolite, Selenite and Rose Quartz are also very calming and great to have in the bedroom to create a beautiful vibe and help with relaxation and sleep.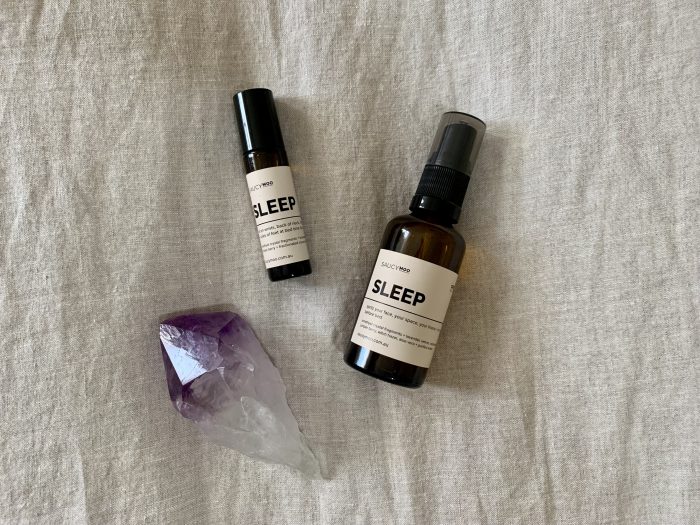 You can find out more about sleep essentials or shop Mia's beautifully hand-crafted products to nourish your mind and soul on SaucyMoo's website.