Meet Ben:
Digital Strategy Director, Dog-lover, Sleeps 5-6 hours a night
Sleep Group: Eventual Sleeper
Sleep Habits: Finds it hard to get to sleep before 12am
Weaknesses: Technology and caffeine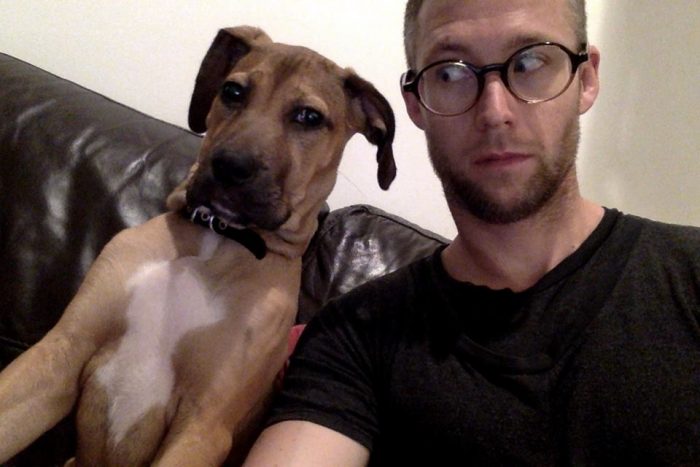 I'm notorious for using technology and drinking coffee at night, which often means I don't fall asleep until after midnight. I'm also an early riser getting up around 5:45am most days, so by the end of the week I really feel the impact of not sleeping enough each night. While I'm not a massive TV watcher, having my computer and phone in my bedroom makes me procrastinate going to bed. My main goal for the challenge was to maximise sleep by going to bed earlier. I figured if I could achieve that, it would positively impact my quality of life and that of those around me!
Monday – I had a massive day at work, and getting home late I immediately forgot about the challenge, going about my usual routine. I went to bed after quickly eating a packet of Mi Goreng and drinking a glass of wine, but was distracted by my laptop and phone! I answered emails and played Words With Friends, then read a few pages of Game of Thrones on my iPad before falling asleep, drooling on the bright retina screen… Whoops.
Tuesday – After waking up at 5:30am I felt pretty rough. Dragging myself out for a run, I vowed to do better. I set reminders before leaving work, and by night time managed to move my iPad out of my bedroom. I went to bed at 10pm and lay there staring at the ceiling for about half an hour, imagining all the things going on in the world that I was missing out on by not using my phone. But before I knew it, I was passed out cold having the best sleep I'd had in ages.
Wednesday – I had so much trouble waking up on Wednesday as I was in a deep sleep. Luckily my dog started licking my face, which got me straight out of bed. I felt pretty refreshed that morning after a solid 8 hours of sleep, which is pretty rare for me! I had a couple of coffees after 5pm to prepare myself for a late conference call and 2 pints of beer at dinner, which wasn't great preparation for a good night's sleep. I was wide awake when I got home and ended up reading on my iPad until about midnight. Fail.
Thursday – I woke up feeling like crap and dragged myself to work, again vowing to do better. When I finally got home around 9pm, after a couple of beers, I got straight into bed and immediately put all of my devices on airplane mode. I fell asleep immediately.
Friday – I haven't been to bed yet, but I woke up this morning at 6am feeling super refreshed and ready for the day ahead. Now to ruin it all over the weekend…
Overall, I wouldn't say I did amazingly. However, it was an interesting start to the sleep challenge. The nights that I ignored technology I definitely noticed that I slept better, but I still need to learn to be more rigorous and set a routine. I think buying some actual books would help so I can read myself to sleep rather than staring at a screen. I think the biggest thing I learnt was that airplane mode is your friend – not having noises or notifications interrupting your sleep makes a huge difference.
I'm looking forward to next week!
How did you experience your first week? Share your story in the comments below.