Sleep: it's something we all need, yet something we could all do with more of. With our increasingly busy lives and the growing demands to fit everything into our day, a good night's sleep can often feel like a distant luxury. In Australia and New Zealand, sleep deprivation is very real. Recent research shows that 4 in 10 Australians[1] and 1 in 4 New Zealanders[2] are not getting enough sleep.
It's something that's easier said than done, with many obstacles such as pain, discomfort and restlessness often getting in the way of quality, undisturbed sleep. With a huge amount of sleep solutions out there, it can be hard to choose the one that's right for you.
Did you know your choice of mattress and bed base could be impacting the sleep you're getting, more than you realise? Both the quantity and quality of sleep can be affected if your bed base and mattress are not right for your body and the way you rest. As a result, adjustable bed bases are fast becoming the go-to option for many people wanting to improve their sleep.
What is an adjustable bed?
Adjustable beds are exactly that: adjustable. While a regular bed consists of a mattress on a flat, stationary bed frame, an adjustable bed features parts that can be raised or lowered independently of each other for optimum ergonomic positioning. For example, if the user wishes to elevate their legs to alleviate lower back pain, the lower section of the bed can be raised as desired. Or if the user wishes to sit up straight to read a book, they might choose to raise the top section of the bed while leaving the lower section down flat.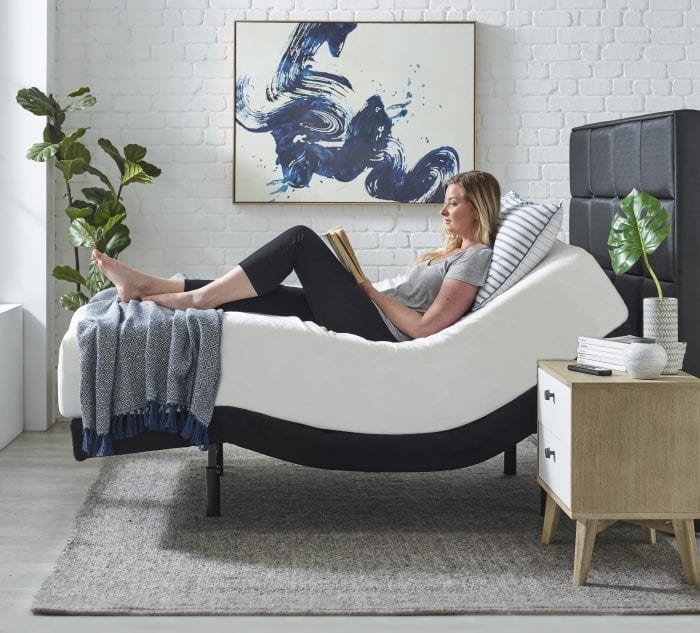 Adjustable beds were first introduced in the early 20th century for use in healthcare. They were used to enhance oxygen, encourage blood flow and increase comfort for hospital patients that were bedridden. Today however, adjustable beds can be found in homes around the world due to their immense comfort and health benefits for individuals and partners.
The benefits of an adjustable bed
One of the immediate benefits of owning an adjustable bed is the user's ability to customise how they sleep. The best type of bed is the one that provides comfort and support – but there isn't a one size fits all. Mattresses and bases that can be customised to your needs will grant you the best chance of a great, healthy night's sleep. Everyone has a unique way of sleeping and preferred positions they find comfortable. As our bodies change over time and different pains develop or heal, sleeping preferences also change. As such, the ability to adjust one's sleep position becomes highly beneficial for several reasons:
1. Reducing back pain
Elevating the legs helps to relieve pressure on the spine. It also helps to support the natural curve of the spine during sleep, minimising the likelihood of aches in the morning. Experimenting with your sleeping position allows you to find a position that works for you to alleviate pain. [3]
2. Alleviate sleep apnoea, snoring and asthma
If you're one of the million Australians struggling with sleep apnoea or snoring, it's a sign that your airways need to be opened up more through the night. This is commonly achieved through raising the head section of your bed to allow you to breathe more easily – an instance where owning an adjustable bed base is the perfect solution.
3. Lessen acid reflux and improve digestion
Elevating your upper body by 6-8 inches alone can improve acid reflux symptoms, as well as help your body to digest food more efficiently. This is especially helpful during pregnancy when acid reflux can be a major sleep thief, allowing you to have a more peaceful, deep sleep overall.
Your bed is your sanctuary, so why not make it customisable? Take a look at A.H. Beard's range of adjustable bed bases today, for the best that sleep technology has to offer.
The importance of a good mattress
Of course, there isn't much point having an adjustable bed if your mattress is inadequate. To reap the full benefits of an adjustable bed base, choose a quality mattress that will meet the needs of you and your partner.
For your best night's sleep, we recommend the King Koil by A.H Beard, a mattress featuring pressure-relieving materials that cradle your hips and shoulders for full-body comfort and enhanced support. Adequate spinal support at night not only maximises quality rest, but leads to better posture and overall physical wellbeing. A King Koil mattress features innovative Reflex technology that is unique to A.H. Beard – and is the only type of mattress recommended by the International Chiropractors Association.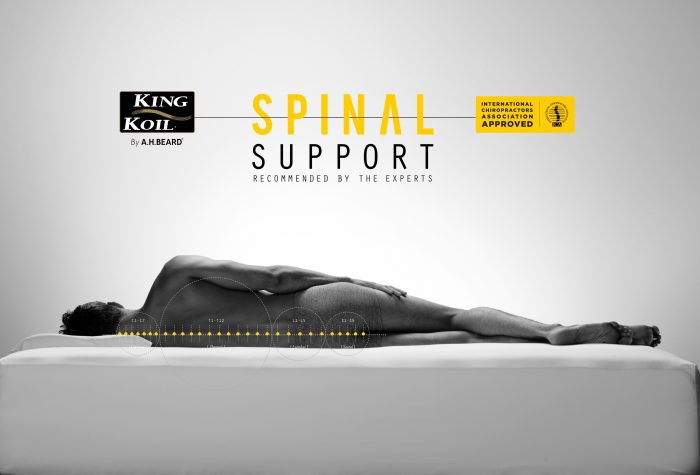 King Koil mattresses also respond to each sleeper's unique size and shape, to deliver the amount of support you need. Reflex technology features primary coils, that conform to your shape and provide full body support, and active coils, that provide additional support where your body needs it. This innovative system responds to each individual – so even if your partner is a completely different size and shape to you, each of your needs will still be met. It's no wonder the chiropractic-endorsed King Koil mattress is gaining popularity as a sleep solution for those who experience back pain and partner disturbance at night.
Whether you're sleeping beside your partner or sleeping solo, get acquainted with A.H. Beard's innovative range of customisable, adjustable bed bases and supportive King Koil queen, king size, single, king single and double mattresses, plus more, today.
[1] Asleep on the Job: Costs of Inadequate Sleep in Australia, Sleep Health Foundation 2017
[2] Research by Sleep Wake Centre, Massey University, Wellington Campus
[3] https://www.healthline.com/health/hip-pain-at-night#tendonitis