Immerse yourself in the luxury of Longitude 131˚, located within Australia's iconic Red Centre.
Longitude 131˚
With the monolith of Uluru as the backdrop of this luxury resort, guests are bound for an unforgettable experience.
Understanding the deep-rooted connection to nature, culture, history and heritage is
fundamental to the itinerary whilst visiting Australia's best-known natural icon. The deep red landscape can be viewed from every angle of the resort, and guests have the opportunity to watch on as the sky becomes a a blanket of bright stars by night.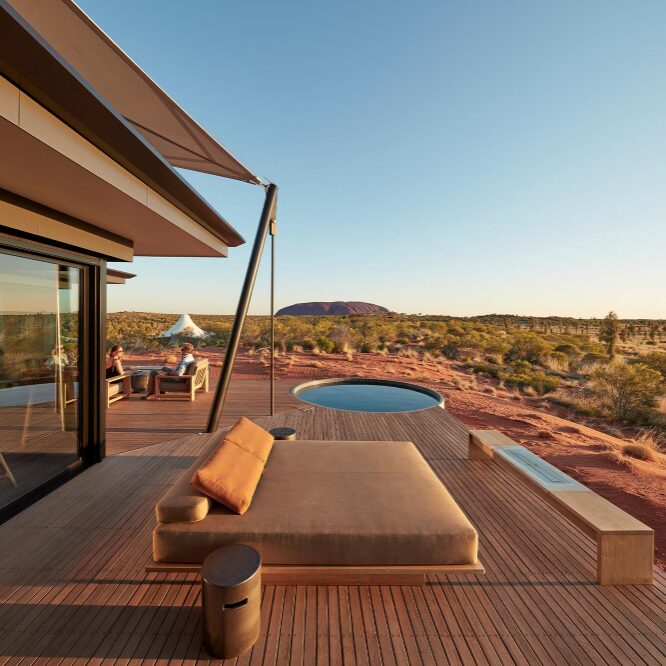 Show me the room!
With sixteen tented pavilions offering guests uninterrupted panoramic views of Uluru through their floor to ceiling glass windows, Longitude 131º is the height of outback luxury.
All tents feature custom A.H. Beard beds, so you can take in the surrounding landscape in complete comfort.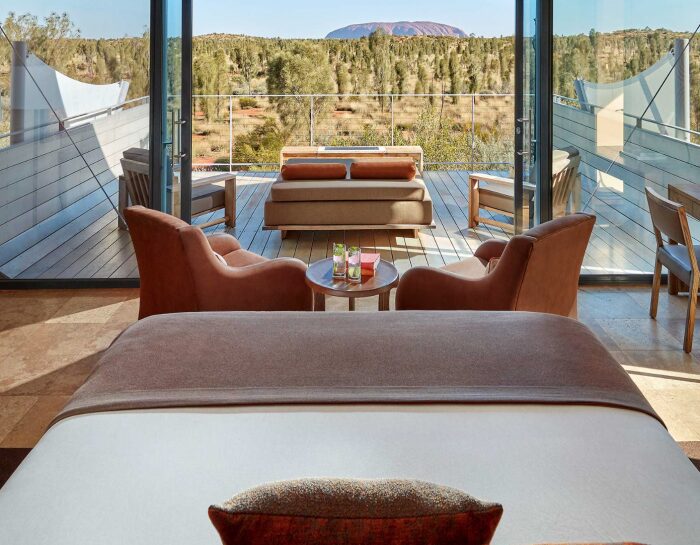 How do I get there?
Longitude 131˚ offers lodge transfers for guests from Ayers Rock Airport, which is roughly a three-hour flight from most capital cities in Australia.
Commercial flights are available to Ayers Rock Airport but charter flights are also available between Kings Canyon and Alice Springs, and other regional ports through special arrangement. Alternatively, the resort is a three-hour self-drive from Kings Canyon and a five-hour self-drive from Alice Springs.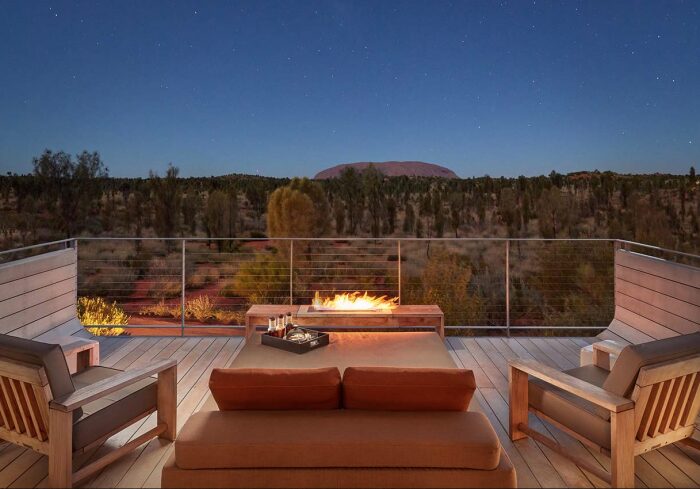 Weather in the Red Centre
Expect warm travelling conditions upon visiting the Uluru-Kata Tjuta National Park. For much of the year, the semi-arid desert welcomes visitors with sunny days and cooler nights. The hot summer frequently puts on a show with dramatic storms that turn the Red Centre to a lush green.
Autumn and winter offer the mildest weather for visitors, whereas summer and spring guarantee temperatures upwards of 30˚. Each season has unique and identifiable factors that highlight the surrounding nature in varying ways, meaning no two visits are the same.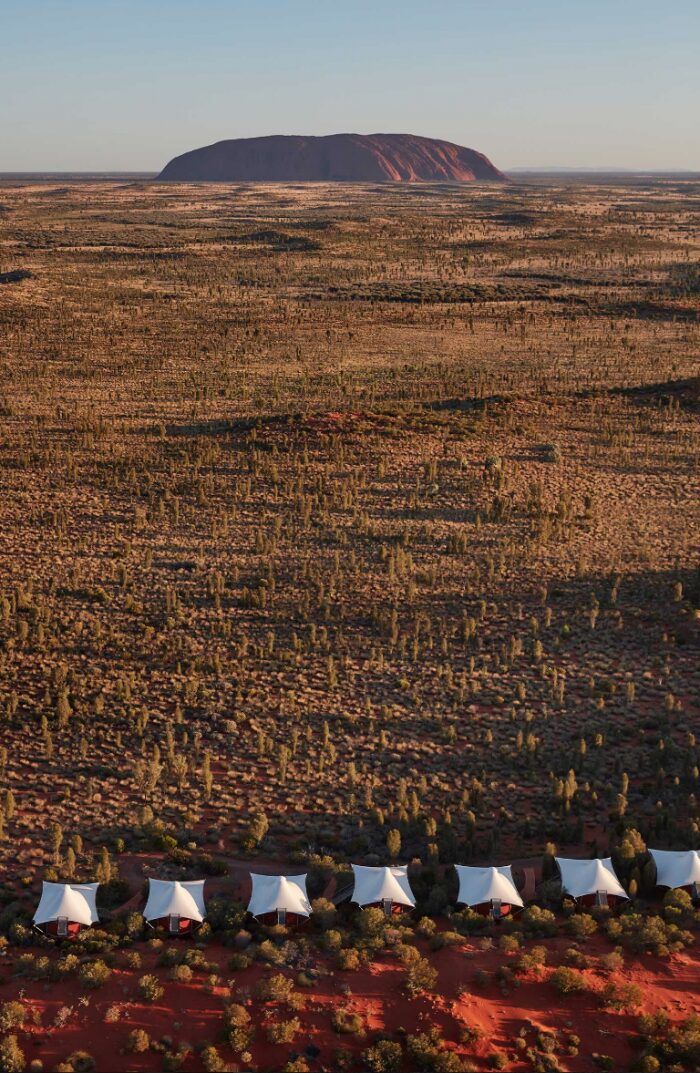 Give me some adventure!
The 'Uluru base walk' and 'Uluru at sunset' are essentials on the must-do list. An expedition to Kata Tjuta and Walpa Gorge adds to the unforgettable nature of such a unique trip with their soaring rock walls.
Artist Bruce Munro's solar installation 'Field of Light' is an unmissable night-time experience. His internationally acclaimed outdoor light sculpture is a collection of some 50,000 coloured stems which emphasise the expansive and open landscape.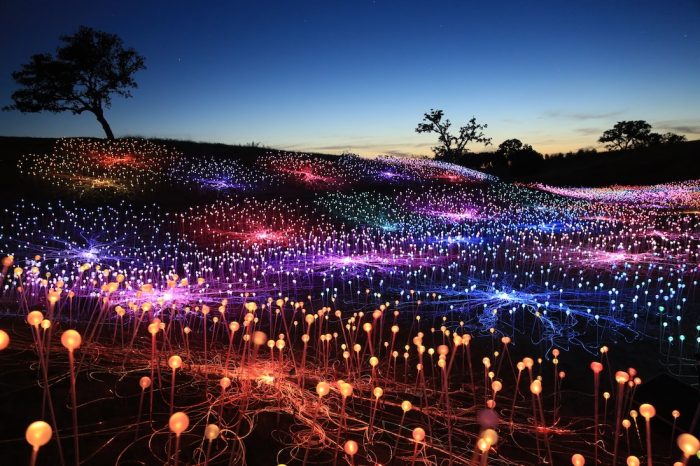 Seasonal dining
Executive Chef, Tom Saliba, incorporates his passion for food sustainability with fresh and seasonal produce. He combines local bush ingredients and traditional indigenous techniques to serve up a unique taste of Australia.
When the hot sun disappears, the world-renowned Table 131˚ restaurant awaits. Indulge in luxurious and traditional Australian flavours whilst sitting on a remote dune top under a kaleidoscope of stars.
With the warm climate, guests are likely to be in need of an icy cold beverage. Treat yourself at one of the resort's 'watering holes'.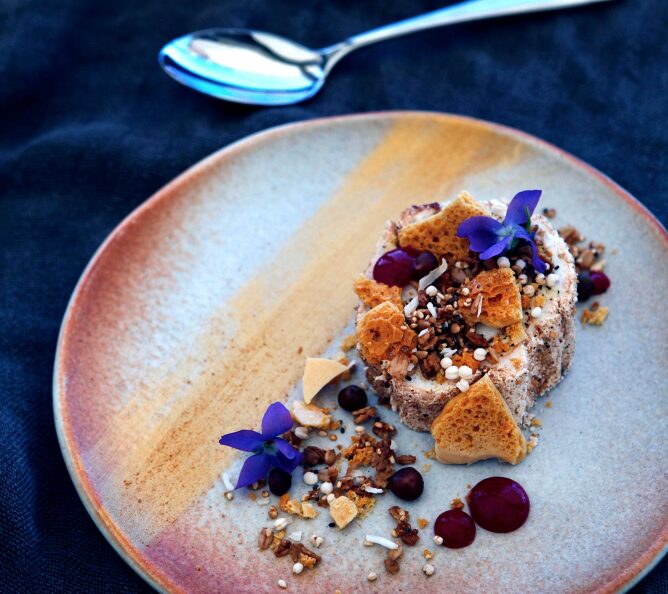 What is the spa like?
Spa Kinara offers a calming sanctuary, designed to reflect the wiltja (a traditional Aboriginal shelter). Nestled amongst the red sand and spinifex, this retreat focuses on revitalising the connection between the traditional country and one's physical being.
With use of native beauty products such as the popular Kakadu plum, Spa Kinara uses
indigenous wisdom and healing techniques to ensure the most calming experience for all guests.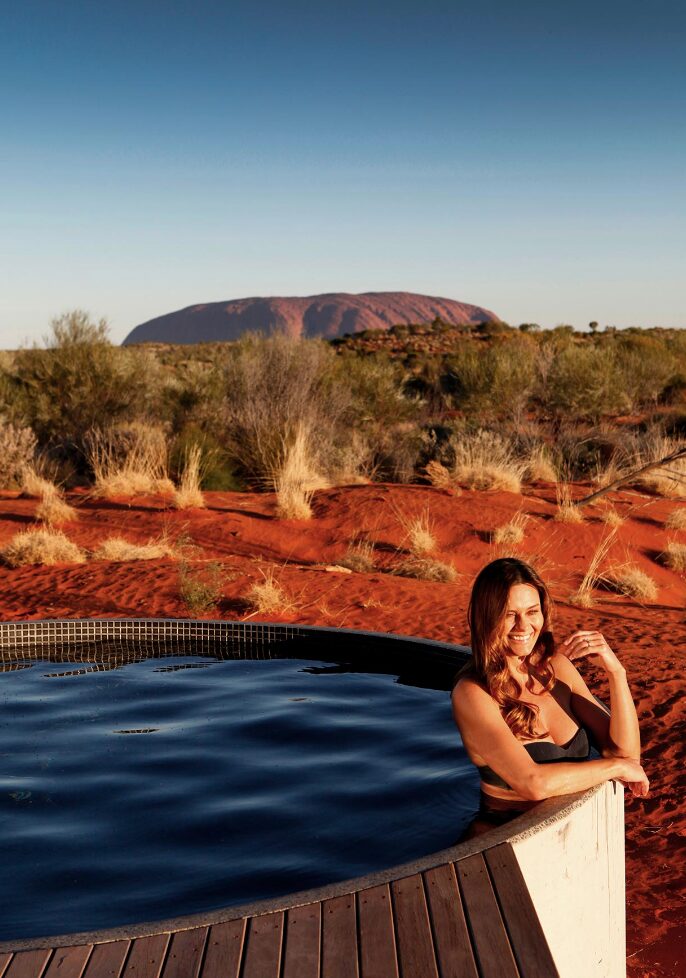 Community connection
Longitude 131˚ actively fosters close relationships with the local indigenous communities.
Native artists and furnishing designers are sponsored to provide art for the resort and take part in artists-in-residence programs that allow for a rare cultural exchange between the Aboriginal artists and guests. The resort also supports school education initiatives, community events and work experience programs.
Make your iconic Australian trip extra luxurious at Longitude 131˚.